Happy Wednesday!!
Mid week = Happiness
I have been following What I Ate Wednesday blog posts for oh so long now, and I am really excited to be participating in my first official one! For a rundown of what What I Ate Wednesday is all about, click
here
.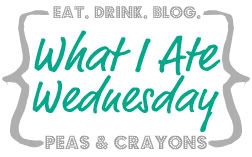 Breakfast was my usual fare: baked sweet potato hash browns topped with
Antoinette`s Salt Spring Dip
, an egg, and a side of chicken bacon.
Morning Snack: Smoothie - banana, scoop of
Sunwarrior
vanilla protein powder, chocolate almond milk, and ice
Lunch: Fish Taco leftovers, so good! Toasted brown rice tortilla, sole, broccoli slaw, guac, and mango&kiwi salsa.
Afternoon snack: Almond rice pops with blueberries
Before dinner snack (because I can never wait): Chocolate almond milk
Dinner: Breakfast for dinner!!! One of my most fave things to do :) Turkey Cranberry sausage made by Kimberly Sausage and Meats that we bought at
Sprout Grocery
and Blueberry Banana Waffles from
here
(I subbed in brown rice flour and used BC grown blueberries bought from
Centex
in Kimberley)
Evening Snack: To be determined ;)
Check out
Peas and Crayons
for tons of other
WIAW
posts, it's a great way to get inspired!!
XO - Michelle